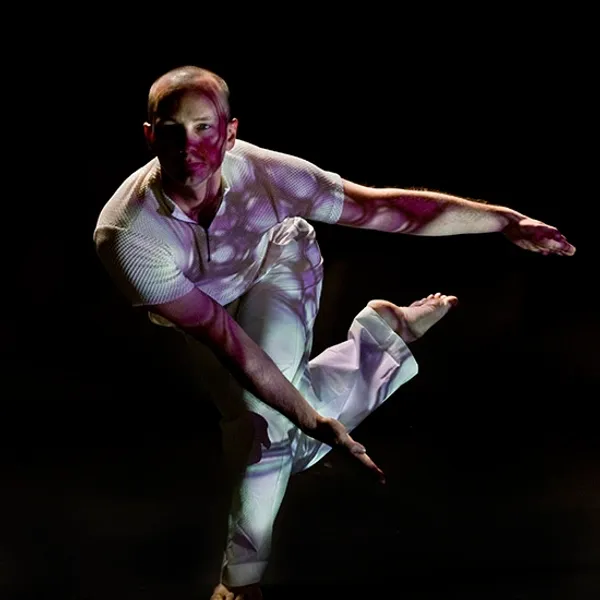 David Reuille Ballet/Modern
Artistic Director – Apex Dance Mr. Reuille (pronounced "Roy") has a distinct artistic vision for dance that fuses many different dance styles into a vibrant and exciting movement style accessible to everyone, no matter their level of exposure to the arts. He has created dances for numerous professional and regional dance companies including Dayton Contemporary Dance Company, Lexington Ballet, AYBT, Illinois Ballet, and more.
About David
In the theatre genre, Mr. Reuille has worked with Curious Theatre on their productions of "The War Anthology," "Curious New Voices," and "Dead Man's Cell Phone." He has received several awards and fellowships for his choreography, including the Montgomery County Arts Fellowship.
As a professional dancer and choreographer, Mr. Reuille's career has spanned 23 years and 8 countries. He began his professional career with Lexington Ballet where he quickly established himself as a soloist and principal dancer. Dayton Contemporary Dance Company (DCDC) was his home for six years after leaving Kentucky. While in Dayton, he performed in the works of such master choreographers as Jose Limon, Donald McKayle, and Tally Betty. David has also danced in new works created by choreographers Bill T. Jones, Dwight Rhoden, Bebe Miller, Ron Brown, and Kevin Ward. Following DCDC, Mr. Reuille was a member of the New York based Parsons Dance Company where he toured nationally and internationally to great acclaim. He has also been a guest dancer with Louisville Ballet, Colorado Ballet, Central Illinois Ballet, Peoria Ballet, and various other regional companies. His television credits include the PBS documentary "Free to Dance." As well as directing Apex, Mr. Reuille is currently a professional teacher, choreographer, and dancer based in Denver, CO. He is a resident choreographer and teacher at Denver School of the Arts. He has taught master classes around the world including the International Dance Festival in St. Petersburg, Russia, American Dance Festival, and throughout the U.S.