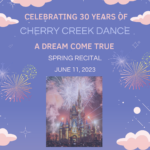 All you need to know about The Big Day! 
Your costume: 
In your brown recital bag is your dancer's costume(s). You will need to bring this bag with you on recital day. The costume was not made to individual measurements but from a general sizing chart provided by the manufacturer, so some alterations may need to be made.  You will be in charge of making any alterations needed. We recommend that your dancer try on the costume when you get home, but do not allow your dancer to wear it until the day of the show. Please hang up your dancer's costume so that it is not wrinkled – steaming is ok but no ironing!
When? 
The show date is Sunday, June 11, 2023  
Please allow extra time to park, check-in, take pictures, etc.
SHOW 1 – 10:30
A split of our Combo classes 2-3, 4-5, 6-9
A split of our HipHop classes 3-4, 5-8, 9-11
A split of our Combo classes 2-3, 4-5
A split of our HipHop classes 3-4, 5-8, 9-11
SHOW 3 – 3:30
A split of our Combo 2-3, 4-5
A split of our HipHop classes 3-4, 5-8, 9-11
ALL of our Lyrical, Jazz, Tap, and Musical Theatre classes.
SHOW 4 – 6:30
ALL COMPANY DANCERS
Where? 
Civic Green Park 9370 Ridgeline Boulevard, Highlands Ranch, CO 80129
Check-in: 
Expect check-in to take about 30 minutes. Your dancer will receive a name tag if he or she is performing in a 2-3, 4-5, 6-9 combo dance, 3-4, 5-8, or 9-11 hip hop dance. If he or she is not in one of these classes, you will still need to check-in so we know that all dancers are present before the start of the show. Parents of any dancer under 13 years of age will also receive a "claim ticket" that will be used to collect your dancer at the end of the show. You will need to check your dancer in with the CCD staff member or representative assigned to his or her age and class. Backstage will be shaded with tents. There will be books to read, pages to color, and puzzles to entertain dancers backstage as well as cushions and blankets for dancers to sit on. ****Parents will not be allowed backstage, or behind the scenes at any time during the show unless working as an authorized volunteer. 
What to wear: 
Please have your dancer dressed in costume with hair and make-up done when you arrive at the venue. Wear your tights with no underwear (Pull-ups/diapers are okay and encouraged for any dancer who is not fully potty-trained).  Hip Hop dancers will not have tights.
Hair:

Hair should be nicely styled in any of the following options: pulled back in braids, ponytail, bun or nicely curled or straight.
All ballet students should have their hair pulled back in a tight bun covered by a hair net (not a crocheted bun cover).
Any hair pieces provided should be bobby pinned in the dancer's hair. 
Make-up, if any, should be in light, neutral tones.


Dance Shoes:

All combo students must have black tap shoes with black laces and pink ballet shoes. Dancers who indicated they identify as male for the recital costume must have black tap shoes with black laces and black ballet shoes.
Jazz IIB, II/III, IV/V/VI and Musical Theatre must have tan jazz shoes.
All hip hop students must have black jazz shoes.
All lyrical students must have foot thongs.
We sell all necessary footwear in our retail store – please make sure to purchase what your dancer will need well before recital day.  There will be no shoes available to borrow the day of the show.  
*** If your dancer is in multiple dances in one show please wear the first costume listed in the show order.
What to bring: 
 BRING THE PAPER BAG your dancer's costume came in with all that your dancer will need for the show. This bag has your dancer's name color coded to the dance group they will perform in – it helps us make sure we get their dance shoes and change of costume (if needed) back to you.
Appropriate tights and shoes. Make sure your dancer's First and Last name is written on each shoe and all costumes.
Water bottle labeled with First AND Last Name
Extra diaper/Pull-up
What NOT to bring:
NO backpacks
NO jackets
NO jewelry, toys or any other personal items
We are not responsible for lost items. We cannot guarantee the return of personal items left at the theatre.
Dismissal: 
When the show has finished, your dancer will be available to pick up. PLEASE NOTE THAT NO PARENT WILL BE ALLOWED TO COLLECT THEIR DANCER BEFORE THE SHOW HAS FINISHED. To expedite the dismissal process and for the safety of you and your dancer, only the guardian who dropped the dancer off will be allowed to pick up their dancer. All paper bags will be arranged in alphabetical order near pick up. Don't forget to take your dancer's bag home with you when you leave. ALL OTHER FRIENDS AND FAMILY MEMBERS MUST WAIT AFTER DISMISSAL TO GREET THEIR DANCER.
Applause, accolades, and pictures:
Cherry Creek Dance provides several ways for you to commemorate your dancer's performance. We sell trophies,  flowers, ballerina bears, candy filled pointe shoes, and more. If you have purchased any of these items prior to the show and have not picked them up at Cherry Creek Dance, they will be available for pick-up on the day of the show.  You can purchase items in our online retail store here.
Professionally produced videos are available and are included in your recital registration fee. Video links will be available usually 6-8 weeks after the performance.
During the show, you are welcome to take photographs and video, but you will have to stay in your seat to do so. For the safety of our dancers and as a courtesy to other guests, electronic devices with a light-up screen and flash photography are not allowed.